North Central Ohio
3 Instagram Worthy Attractions in Dublin, Ohio
August 15, 2017
Dublin has some bizarre but amazing sights to see. Whether you're driving through or looking for something to do on the weekend, you have to include these 3 spots on your list. Don't forget your phone because you'll want to Instagram the attractions!
Whether you live in Dublin or are just visiting, you have to jump in your car and go check out these awesome attractions Dublin has to offer! Many of them are a "must see to believe" and chances are, you might've passed them on your way in. Seeing these landmarks from afar won't do them justice- look at them up close and of course, snap the Instagram photo your friends will love. I might even give you a little history lesson along the way!
‍
1. Leatherlips Monument
This sculpture of the great Wyandot Indian Chief is made out of native limestone slabs and built near his death site. Not only is it an amazing sculpture, but a great photo opportunity! Visitors can pose on the head of the chief with easy access up the back. Chief Leatherlips got his name because of "his admirable trait of never breaking a promise." In 1810, he was executed by Tomahawk for being too friendly with the white settlers. Get this, his brother, Roundhead, is the one who ordered his death!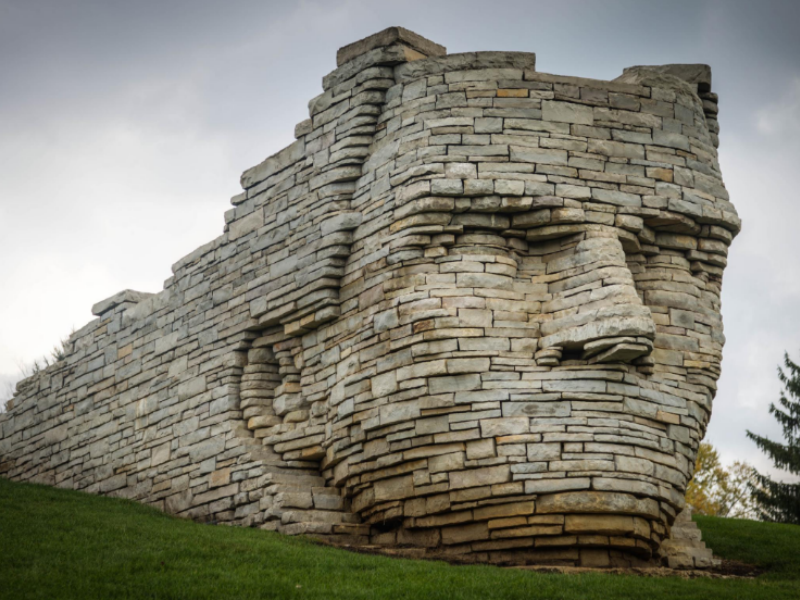 ‍
2. Field of Giant Corn Cobs
The Field of Giant Corn Cobs was created to salute Sam Frantz, an inventor of hybrid corns and serves as a very odd sight from the highway. From 1935 to 1963, Frantz farmed this site and used it as a study field for tasty mutant strains. He eventually donated this land, now named Sam and Eulalia Frantz Park, after its farming days were over. The 109 people-sized ears of concrete corn are certainly a vision and something you have to stop and see!


‍
3. Giant Dancing Rabbits of Ballantrae Park
On your way through the Ballantrae housing development, you can't miss the three dancing rabbits in a small public park. Artist Sophie Ryder created the 15 foot tall bronze rabbits that were commissioned by the Ballantrae developer after stumbling upon her work while traveling overseas. What makes this sculpture so neat is that there are many tiny artifacts molded into them. You'll see tiny household objects as well as not so ordinary objects such as coins, cameras, tools, and even animals sculpted into them. While you don't need to get out of your car to see the rabbits, you do need to see the amazing details up close! These dancing rabbits are only a few miles away from the Field of Corn!


‍
Even if you aren't in town for work, visiting family and are maybe just passing through, Dublin promises some great sights along the way. Keep your eye out for these 3 attractions next time you plan your trip to Dublin!
‍
‍
...